Discover more from Be Where You Are
a newsletter about how to use writing and mindfulness to be where you are
I've never been good at drawing or visual art (except for the drawing I made of a raccoon in 8th grade art class; that was one damn beautiful, pensive raccoon). My son, Kai, on the other hand, creates strange & beautiful art everyday and my daughter, Lulu, has recently started drawing spooky graphic short stories for Halloween.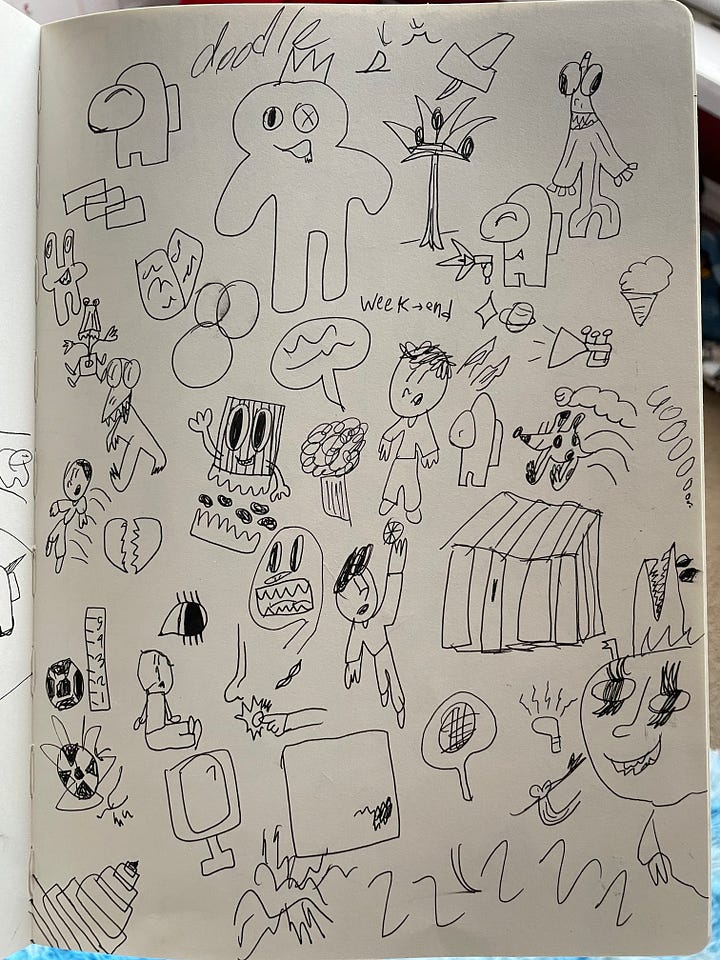 The art time that has come along with parenting has made me much more open to drawing as a way of expressing experience. Previously, I would only turn to words. But sometimes words feel too distant. Often, I need images as a way to get closer to experience or feeling. 
Cartoonist Liana Finck really changed the game for me with this. I first encountered her work years ago on Instagram with a cartoon shared by my smart, hilarious friend, Jill Yeomans, (co-owner of the incredible White Whale Bookstore). There I was, lost in the mindless sideways scroll of clicking right on different stories and then up popped a cartoon that spoke to motherhood in a way I'd never experienced before. I felt seen, known, named.
I subscribed to her substack newsletter and have loved seeing new work from her every week. I could point to many different cartoons that have helped me viscerally to feel less alone or strange. This one, this one, this one, scroll down for a few stellar ones in this BOMB interview (for a start).
I read her graphic memoir, Passing for Human, and highly recommend it. It's a brilliant coming-of-age story & family narrative that's really about coming to peace with her weirdness and a sense of otherness in the world.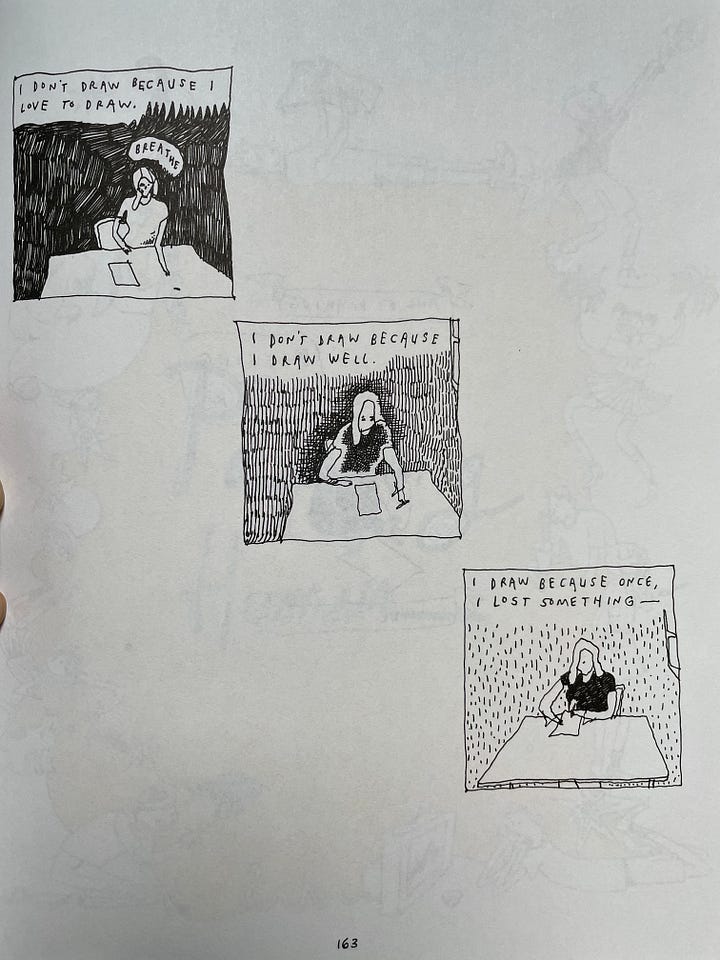 I'm now waiting for Excuse Me: Cartoons, Complaints, and Notes to Self (Random House) to arrive at my library, and excited to check out her last few books as well (I just learned that she has a book coming out next year titled, How to Baby: A No-Advice-Given Guide to Motherhood, with Drawings (!)
Below are two drawings I've made in my journal over the last year inspired by Liana Finck. Each one helped me viscerally to name something I wasn't able to convey in an essay or poem or a conversation or text to a friend. Both incorporate words as well, so are a kind of hybrid form, I guess.
Prompt:
Look at a few of Liana Finck's cartoons or another artist's work that you admire. 

Reflect on something about your life that feels hard to articulate in language—the stress of emails coming into your inbox, the way small talk feels at a birthday party for your kid's friend, the way you melt into the couch after a long day, your feelings about the horrific news of the world right now. Anything that feels too messy or nuanced or complicated to express in words. 

Draw it. Don't worry about how "good" it is. Just draw it in whatever way makes sense for you. 

Share it with a friend. I'd love to see it if you're up for sharing or just tell us how it went in the comments!
For more Liana Finck:
---
Be Where You Are is a newsletter about how to use writing and mindfulness to be where you are. You're always welcome to reply to this email, comment below, or find me on instagram (@mohnslate) or elsewhere. If you enjoyed this, I'd love it if you would subscribe, share this post, or send it to a friend.